Going Green For The Holidays
If the recent media frenzy over going green has got you concerned, now is the time to begin using recycled materials and products to decorate for Christmas. Not only are there many companies and individuals that crafts Christmas decorations from recycled material, decorators can do the very same.
Not only is this a more cost effective way of decorating, it is also doing something for the environment making it an even better way to prepare for the holidays. Some may believe that using recycled materials would be hard or more time consuming, but it really isn't in fact it may be easier and it is definitely less harsh on the pocketbook. Here are some ideas of how you can save the environment and decorate for the holiday at the very same time.
Everyone loves to have the biggest and best Christmas decorations for all to see. After all, this is the time of year when friends and family gather at homes, viewing all that the homeowner has done. Most people want to be the talk of the town with their wonderful and festive home, and this is possible while still using recycled goods.
How about those old cigar boxes, glass jars or even plastic grocery bags? That's right; they can all be used when creating that next holiday decoration. Cigar boxes or other containers can be cleaned, painted and decorated to hold greenery, flower arrangements or even a set of candles that are beautifully decorated for Christmas. Instead of throwing those boxes out to set in the landfill now they can be of use and good use at that. Glass jars, bowls and other broken pieces can be used as well by adding ribbon or other fabric to cover in the cracks or chips that they may have. It is important however, to ensure that they will not be a danger two small children or anyone else that may be using or admiring them. Filling these glass pieces with candy, potpourri or other decorative items can create a great decoration and also one that can be used over and over again. In fact, the colors and contents can be changed to then be used for the next upcoming holiday! Always having a festive and well decorated home is the key to Christmas cheer!
One of the most environmental savings is reusing those plastic bags that come from the grocery stores. These bags can be used to stuff cloth Santa Claus decorations or other fabric pieces! This keeps the bags out of the landfill and helps the environment one bag at a time!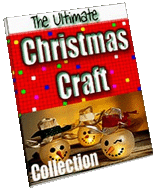 Make your holiday planning and gift giving easier with
The Complete Christmas Collection.
Download Now!
Choose your favorite ebook or get the Complete Collection!