Decorating The Holiday Meal Table
Have you ever wished that your holiday meal table could look like those in the soap operas or on the big screen? Because the stars have interior designers of course they have the best and most festive decorations inside and outside their home.
Unfortunately, most common folks cannot afford to hire someone to stage their home for the holidays or even all the lavish decorations that they use. There are alternatives to decorating the meal table and it is even possible to have everyone visiting believing that a professional had a hand in setting the table and decorating it.
So, if you want a festive, yet classic look for the dining table on Christmas, read on for more tips and tricks!
It really doesn't matter what size or type of dining table the homeowner might have, as there are a few things that are musts to decorate the Christmas dining table. First, a table cloth should be used to hide any imperfections of the table and also add that extra hint of color. The tablecloth also gives a very professional and classic look to start with. The next thing that is needed for a well decorated table is placemats. Since it is time for the holidays, one might choose a Christmas theme.
If not a specific Christmas theme, maybe the standard holiday colors will carry the festive theme. Napkin holders and napkins should also adhere to the themed color to help tie in the entire table. Reds, greens, gold's and silver's are popular holiday colors, but in the recent past many homeowners have begun incorporating more colors into the mix.
For larger dining tables, the homeowner may choose to have one center decorative centerpiece, but then have other decorations around the table as well. The center decoration should be larger and have a more festive spirit to draw attention to it first. This is the center piece that should be seen and draw the visitor's eye very first. These centerpieces range from floral arrangements, holiday candle settings, and other hand crafted decorations. Other popular table setting decorations can be candy dishes, candles Christmas figurines as well as others relating to the holidays.
The Christmas dining table should be a focal point and as much attention should be given to where the food is served as Christmas tree itself. Decorating through the entire home helps get everyone in the Christmas spirit, but extra attention should be paid to the meal area!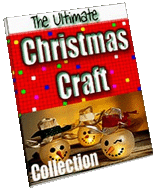 Make your holiday planning and gift giving easier with
The Complete Christmas Collection.
Download Now!
Choose your favorite ebook or get the Complete Collection!