Candy Canes Are Sweet & Make Great Decorations
Candy canes are an absolute must at Christmas time, but most people use them only as decorations for the tree and a sweet tooth. They never even realize what can be done and made or how candy canes can dress up any home for the holiday.
Not only do they make colorful decorations, they also make wonderful snacks for children coming in and out of the house. Whether it be grandchildren or children of social get togethers', it is a wonderful idea and a very cost effective way to have a beautifully decorated Christmas Homes. This article will focus on candy cane projects and ways that they can be used for home décor.
How about a candy cane pillar? One of the neatest and cutest ideas takes less than five minutes and looks like a million dollars.
By purchasing a box of candy canes from the discount store or dollar store for that matter and a color candle you can have a beautiful and decorative piece for any sitting arrangement. Making this decoration is very easy because it only means breaking the hook off of the candy cane to create a straight piece. After that is completed use hot glue or other craft type glue to adhere the candy canes sticks around the entire candle. Once that is completed allow it to dry and it can then be placed in a glass dish, jar or other decorative piece. The use of bells, garland and other items can certainly add to this piece making it a holiday favorite.
Candy canes have also been used for years as Christmas tree decorations, but what about a string of candy canes to drape across all the door frames of the home? This is easy, cheap and really adds a feeling of festivity to the entire home.
Because most people cannot afford to lavishly decorate every room of the home, these little ideas can really help out, even something as simple as a candy cane can make a huge difference. It gives the impression that hundreds was spent on decorating the home, yet it was only a couple of bucks. After all decorating for the holidays should never take away from the budget spent on loved ones, but by using simple little ideas, you can have the best of both worlds. A beautifully decorated home and still leave the Christmas gift budget untouched. A little work, a lot of creativity and anyone can decorate for Christmas!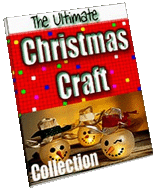 Make your holiday planning and gift giving easier with
The Complete Christmas Collection.
Download Now!
Choose your favorite ebook or get the Complete Collection!