Christmas Home Decor On A Budget
The weather outside is frightful, but the décor inside is delightful! Christmas is the best time of year to show a homeowners true style and expression through their bold decorating Christmas theme. There are definitely no rights or wrongs when it comes to decorating for the holidays, however many find themselves spending a fortune before it is all over.
It doesn't have to be this way though and in fact there are some beautiful ways to decorate a home on a budget, leaving a lasting impression on all who see it. Have the neighbors and socialite list believing that a professional decorator staged the home, by following a few simple as well as affordable tips.
One of the most costly mistakes that many home decorators make where budget is concerned is that they purchase too many centerpieces and other decorations. Many of these pieces can be made by hand and even from recycled materials or affordable craft store items.
If a person is crafty at all they can look online for ideas or visit their local hobby and craft store to get some great ideas. Most of the time these expensive pieces found in local retail stores can be pieced together for a fourth of the cost that they are charging. Plus there is something special about making a centerpiece or decoration from scratch. Certain amount of bragging rights in a do it yourself holiday décor project!
Making the most of colors can open the door to a festive and well decorated home. Everyone knows that reds and greens are Christmas colors so getting creative with color can really pick up the slack of not having a large budget. From adding colored tulle on the staircases to changing the dinner placemats to a festive theme can make a true difference.
Ribbons are another way to add a splash of color and also give some height or fullness to existing plant stands, centerpieces or other home accessories. Ribbon is inexpensive and anyone can learn to create some very unique bows and other nice looking additions to any piece. Color can also be changed through the use of garland and other Christmas colored plants can also add a touch of class to any home. Poinsettias and other greenery can be added to mantles, tables, doorframes, cabinet tops or just about anywhere else throughout the home.
Remember, Christmas only comes once a year so get to decorating, but just watch those nickels and dimes. Decorating on a budget can actually be a lot of fun and very educational as well!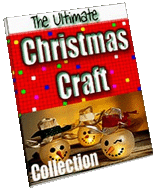 Make your holiday planning and gift giving easier with
The Complete Christmas Collection.
Download Now!
Choose your favorite ebook or get the Complete Collection!