A Homemade Christmas Surprise
Christmas time is full of surprises and should be no different when it comes to making those festive little decorations. Not only do children enjoy making crafts, but adults enjoy them too. It makes the craft extra special when it is complete and proudly displayed in the home.
The following Christmas crafts can be made by just about anyone and displayed as decorations or handed out to family and friends as gifts. Try out these ideas and pass them on to friends and family as well! Everyone should make at least one craft as a family for the holidays as it is rewarding and special family time together.
Since Christmas trees are a staple at the holidays how about making a small tree for the tabletop or other display areas. The base of the tree can be a Styrofoam cone purchased at the local craft store or online. This makes the perfect shape for the decorative tree. Wrap the cone with double sided tape and make sure that the entire cone is covered.
Starlight mints in either the red or green can then be placed on the tree as the decorative source. Cover the entire surface of the tree to make sure that the tape or cone is not visible. Other colorful candies such as jawbreakers or lollipops can also be included in the mix to make the tree a little more unique. Don't forget a star, angel or other decorative topper to adorn the top of the crafted tree.
Candy garland is generally a favorite family time craft for the holidays. They are easy to make and children love to sneak a piece or two of candy in the process! For this project, start with the wrapped individual candies of any kind, but the color may matter to give that Christmas feel. The end wrapping of the candy can be attached to the next candy, therefore making a strand or piece of candy garland. This is a great way to decorate a table, tree or anything else at Christmas time.
These candy strands are particularly cute when hanging from doorknobs! Since they can be made different lengths, having them anywhere is possible. This project also makes counting the days 'til Christmas possible. This is especially popular with the kids because each day they can take a piece of candy off the strand and count the days until Christmas! Not only is this fun, it is also educational and a great decoration.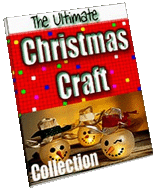 Make your holiday planning and gift giving easier with
The Complete Christmas Collection.
Download Now!
Choose your favorite ebook or get the Complete Collection!